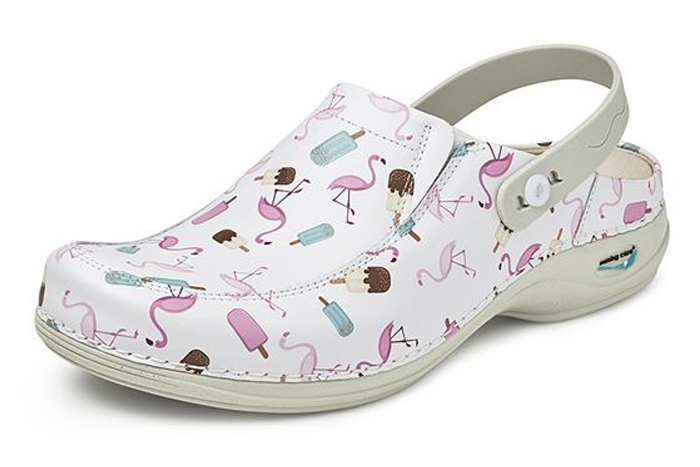 Product number:
WG4PF29-41
Benefits:
Since 2006 trusted partner for healthcare

In-house engraving and printing

100 days return policy
Product information "NursingCare Wash&Go WG4 Flamingos"
NursingCare, to enjoy during your shift…!!
COMFORT // Its construction system ensures great flexibility from
the first day. Its last is suited to your feet: it has a base that allows
them to maintain an anatomically correct posture and has enough
room for your toes.
Its removable anatomical insole are soft to absorb the impact of walking
and give proper support to your feet, but is strong enough to not cause
unwanted instability.

SAFETY // Wash'Go clogs are anti-slip, anti-static, certified and marked
CE. Available with a safety strap for greater foot stability.

HYGIENE // Wash'Go clogs are machine washable with your dark clothes.
They lose neither colour nor flexibility, and the leather does not become
dry or stiff. Its removable microfibre insole has great durability and will
not become dark or dried out.

DESIGN // Of attractive and modern design, Wash'Go clogs are available in
a captivating and varied range of colours, so you can enjoy it throughout
your work day.

QUALITY // Despite the Wash'Go innovation - leather shoes that can be
washed without falling apart or deteriorating - the technology used allows
a great durability.

TO WASH YOUR CLOGS //
1. Remove the insoles;
2. Introduce the shaper (plastic piece inside your clogs);
3. Wash the clogs and the insoles with your dark clothes;
4. Remove the shaper to dry and set aside for the next use;
5. Dry away from direct sunlight or heat sources;
6. You can apply a natural wax to protect the leather;
7. Do not use liquid polish with sponge applicator.


Shoe type:

Clogs

Colour:

Pattern

Gender:

Women

Features :

Anti-static

, Machine washable

, Removable footbed

, Shock absorbing

, Slip resistant

Closure:

Heel strap

Shoe width:

Normal

Heel:

Open

Sole:

PU

Upper material:

Leather